The emergence of online and mobile banking has led to many financial industry commentators to question the sustainability of the branch channel.   Recently-published data from three leading banks (Chase, Bank of America and Wells Fargo) indicates that online banking has achieved critical mass (with huge numbers of users, but low/no growth), while mobile banking is rapidly emerging as a key banking channel.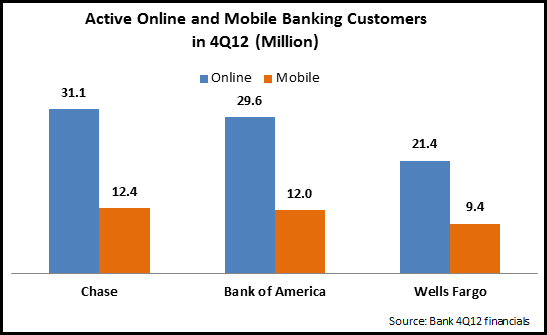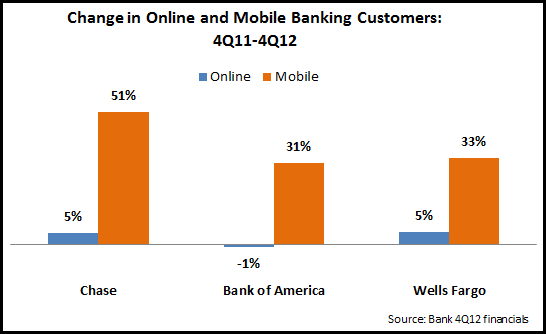 Does the emergence of online and mobile banking presage the end of branches? EMI's analysis of the latest data on the top 15 branch networks indicates no significant evidence of banks dramatically scaling back their branch numbers.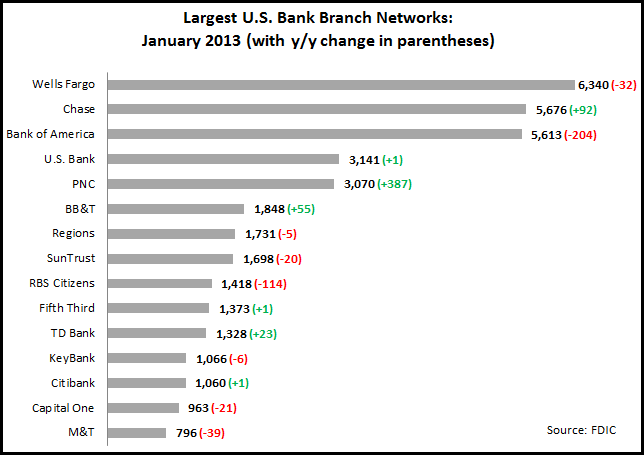 Of the top 15 branch networks, 7 grew between end-2011 and January 2013, while 8 declined.
The largest growth in numbers came from PNC (due to its acquisition of RBC Bank in 2012), Chase and BB&T.
The largest declines came from Bank of America, which has signalled its intent to cut its branch network by 10%; and RBS Citizens.
Bank executives reiterated their commitment to the branch channel in reporting their latest quarterly earnings. However, they also highlighted the need for changes to the branch channel in the context of changing customer channel usage and technological advances, as well as the ongoing need to control costs.  Changes will probably involve some reductions in branch numbers, as banks eliminate underperforming individual branches and exit geographic markets where they feel they cannot gain critical mass.  Of course, banks may also seek to grow their branch presence in targeted markets (as Chase is doing in Florida and California).  In addition, bank need to make significant changes to branch design, staffing and operations, a topic that EMI discussed in a recent blog.
Subscribe