The following is a list of several trends that EMI Strategic Marketing identified in leading credit card issuers' 3Q15 financials:
Regional bank card issuers continue to lead in receivables growth.  A key factor: regional banks, such as SunTrust and Wells Fargo, are focused on cross-selling credit cards to their bank customers.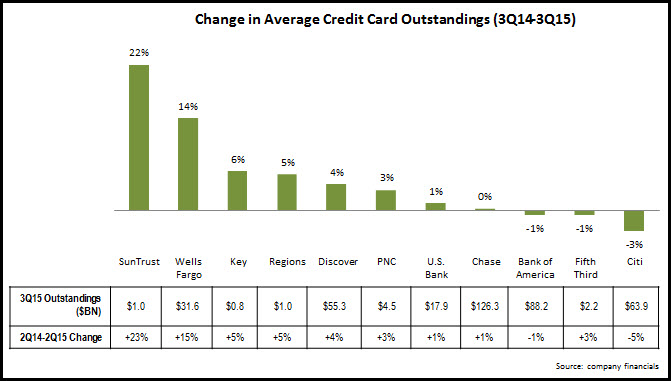 Many national issuers not (yet) growing loans, but are ramping up new account generation.  National credit card issuers like

Citi

and

Bank of America

reported y/y loan declines in 3Q15, due to continued run-off of legacy portfolios.  However, both of these issuers are confident that their portfolios will grow in the near future. 

Citi

reported that it is ramping up card acquisition for its core products, and this is starting to pay off with 6% y/y rise in active accounts.  Credit card "monolines" are also investing in new account generation. 

Discover

new account generation in 3Q15 was at its highest level since 3Q07.  And American Express reported an 8% y/y rise in marketing and promotion spending, with a focus on attracting new card members.  As a result of this investment, American Express generated 2.3 million new accounts in 3Q15, compared to a quarterly average of 1.6 million in 2014.
Card volume grew…but was impacted by low fuel prices.  Leading issuers continued to report growth in purchase volume, but the y/y rate of growth was lower than in recent quarters, in large part due to low fuel prices.  Discover reported y/y sales volume growth of 2.6%.  However, excluding gas, the growth rate was 7%.  Issuers reporting very strong volume growth included Capital One (+19% y/y), which is benefitting from its focus on transactors, and Wells Fargo (+15%).
Issuers are growing revenues…and expenses.  Six of the largest U.S. credit card issuers have dedicated payment units, which publish quarterly revenue and expense data.  Since the financial crisis, revenue growth has been elusive for issuers, but in 3Q15 four of the six issuers reported y/y growth in revenue.  Benefitting from loan growth, five of the six issuers reported growth in net interest income.  And three of the six reported noninterest income growth.  However, as issuers are looking to generate new accounts as well as loan and volume growth, they are increasing their noninterest expenses.  Banks with the largest y/y increases in noninterest expense in 3Q15 included American Express (+11%), U.S. Bank (+9%) and Discover (+8%).
Credit card yield shows signs of growth.  Of the seven leading issuers who reported yield data in their quarterly financials, four reported y/y growth.  In addition, six of the seven reported q/q rises in yield.  This indicates that in the post-CARD Act environment, issuers are not competing aggressively on price, but are instead concentrating on enhancing rewards, providing additional value-added features, and making large acquisition-and-activation bonus offers.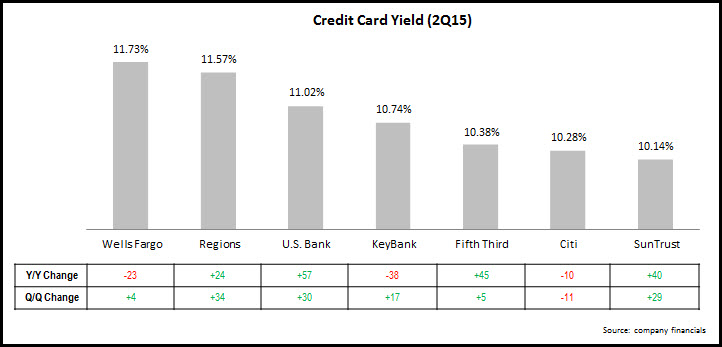 Charge-off rates continue to decline…and may fall even further.  As we have mentioned in previous blogs, credit card net charge-off rates are well below historical averages.  Reasons for this extended decline include tight underwriting on the part of issuers and an aversion to building up large credit card debt on the part of cardholders.  In its earnings conference call, Discover characterized the credit loss environment as "remarkably benign."  With continued y/y declines in 30+ day delinquency rates (which have historically been a predictor of charge-off rates), issuers are not expecting the charge-off rate to spike in the near term, and in fact rates may continue to decline further.