Recent data shows that while banks continue to cut overall branch numbers, they are also deploying their network across a broader geographic base. These trends are in large part due to digital channels now dominating for everyday banking transactions. As a result, banks are maintaining a less dense network of branches in existing markets; and they are opening de novo branches in expansion markets.
The following table shows branch numbers for some leading U.S. banks at the end of the first quarter of 2023, as well as net changes from 1Q22 and 1Q18.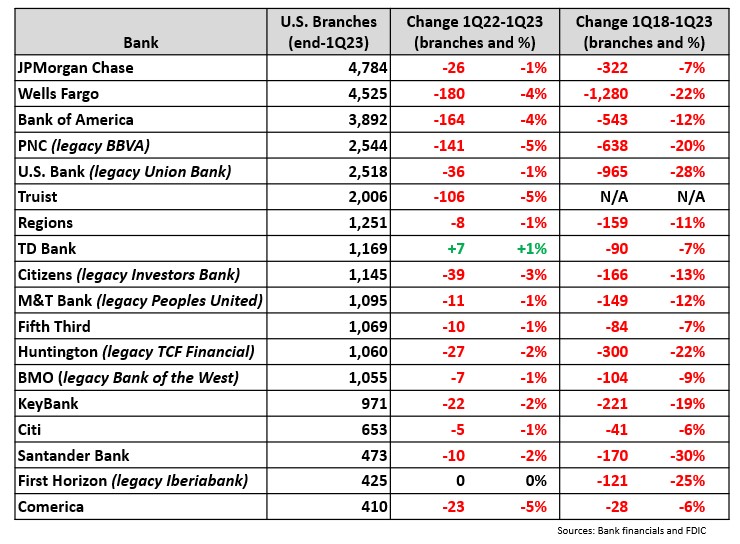 Most banks have closed branches steadily in recent years. Wells Fargo closed 180 branches between 1Q22 and 1Q23,and 1,280 branches over the past five years (representing a 22% decline). U.S. Bank, PNC, Huntington Bank, Santander Bank and First Horizon have also cut their branch networks by at least 20% over the past five years.
Banks have indicated that they will continue to downsize their branch networks, but this does not mean that we are witnessing the extinction of the branch channel. Surveys show that consumers continue to value branches: in the J.D. Power 2023 U.S. Retail Banking Satisfaction Study, 38% of customers describe branches as essential. And banks see branches as a key channel for:
Branding and marketing
Customer acquisition and onboarding
Customer service
Local community engagement
Showcasing new products and technologies
Expert advice and support
What's more, branches are critical beachheads for establishing a presence in new markets.
At its 2023 Investor Day, JPMorgan Chase reported that though it closed 22% of the branches in its legacy network between 2017 and 2022, 15% of its current branches were opened during the same period in new locations. It now has branches in each of the 48 continental states and 60% of the U.S. population is within a 10-minute drive of a branch (up from 50% in 2017. JPMorgan Chase is planning to grow its population coverage to 70% in the coming years.
Bank of America recently announced plans to expand its retail banking network into seven new markets, even as it cuts its overall branch count. The bank currently has branches in 83 of the top 100 markets and plans to expand that number to 90 by the end of 2025.
TD Bank announced plans to open 150 new branches by 2027, as it seeks to grow market share in south Florida, Atlanta and South Carolina.
In summary, trends in digital and branch channel usage create opportunities for traditional bricks-and-mortar banks to reduce overall branch numbers while expanding their reach into new markets through de novo flagship branches.
Subscribe