In recent weeks, the leading U.S. credit card issuers reported relatively robust 4Q15 financials.  The following are some key trends that EMI identified in these results:
Most leading issuers increased net income in the recent quarter, as increases in revenues (both net interest income and noninterest income) more than offset rises in both noninterest expenses and provisions for loan losses.
Growth in average outstandings was led by regional bank card issuers, as well as Capital One and Wells Fargo.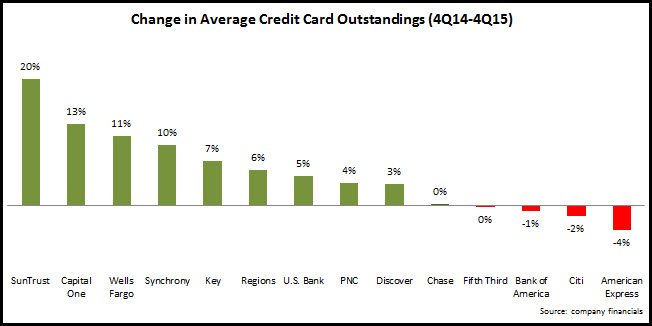 In spite of their lack of outstandings growth, the leading issuers reported strong new account generation.
Citi is ramping up new account acquisition for its core products (which account for 80% of its U.S.-branded card portfolio), with active accounts growing 13% y/y.
Like Citi, American Express has ramped up new card acquisition, and its 2.1 million new accounts in the fourth quarter were well above its historic average.
Bank of America grew new accounts 6% y/y to 1.26 billion in 4Q15.
Issuers are focusing on new channels to drive new account acquisition, in order to reduce acquisition costs, as well as reflect changing consumer behavior.
72% of new Chase card accounts in the fourth quarter came through the online channel.
Synchrony reported a 73% y/y rise in applications through the mobile channel.
Although adversely impacted by sharply lower fuel prices, issuers continued to report steady growth in volume in 4Q15.  It was notable that, for most issuers, the growth rate was virtually unchanged between 3Q15 and 4Q15.  One of the factors driving continued volume growth is the rise in active accounts.  Citi reported a 13% rise in active accounts for its core products, Synchrony grew active accounts 5%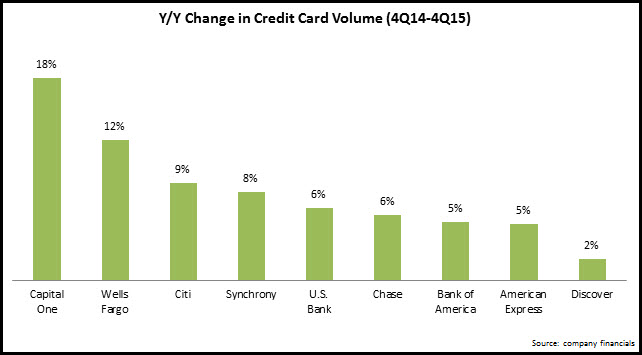 Charge-off rates remain at historic lows, with continued y/y declines.  However, most issuers reported rises in the charge-off rate from 3Q15.  30+ day delinquency rates also remain very low with little sign of upward movement.  Therefore, we expect charge-off rates to remain at or near these very low levels in the coming quarters.  Chase expects its charge-off rate to be around 2.5% in 2016, close to its current level of 2.42%.  However, it is notable that all of the leading issuers increased their provision for loan losses, led by Capital One (+24% y/y) and American Express (+10%).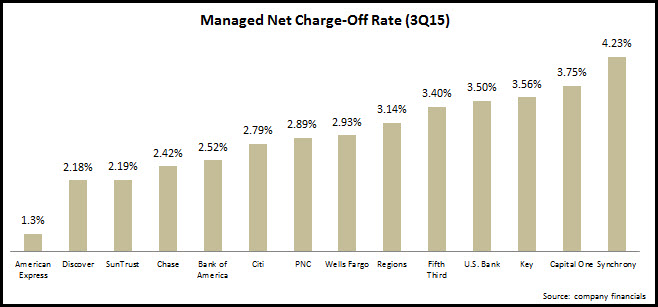 In the coming year, we expect that issuers will be looking to new card launches to fill gaps in their product portfolios and drive growth in underpenetrated and/or high-growth segments.  The following recent card launches are indicative of this trend:
Wells Fargo Propel American Express Card
Barclaycard CashForward World MasterCard
TD Bank Cash Visa Signature Card
Discover it Secured Card
American Express SimplyCash Plus Business
U.S. Bank Business Edge Cash Rewards World Elite MasterCard
In addition, the top issuers will try to translate the recent rise in new account generation into steady loan growth.  Issuers in general will be looking to drive both volume and loan growth through initiatives targeting various stages of the cardholder life cycle: acquisition and activation, retention and ongoing usage.  At the same time, they will continue to hope that charge-off and delinquency rates remain close to historic lows.