When marketers consider how customers make buying decisions, their focus is usually on purchases, subscriptions or signed contracts. This makes perfect sense inasmuch as those are the decisions that generate revenue. But think for a minute about all the decisions that leads customers to their final decision, e.g., conducting a web search, visiting a web site, downloading – and reading – a case study, clicking a button to subscribe to emails. Without all of those the decisions, the customers' final decisions may not have occurred.
So my point is: We can't downgrade the significance of the final decision, but we should upgrade the significance of all the "microdecisions" that are made that came before that decision. By not giving each decision its due strategic weight, we risk missing key opportunities for optimizing conversions. Even referring to this string of decisions as a "customer journey" creates an impression of an adventurous Bilbo Baggins wondering off from the Shire, rather than appropriately understanding it to be more like the years-long endeavor of actor Martin Freeman and the meticulous planning of director Peter Jackson, each step is affected by what happened before.
According to a recent study by Noom (take this with a grain of salt), humans make 122 informed decisions every day. Focusing on only one seems like a lot of missed opportunities for marketers to influence prospective customer behavior.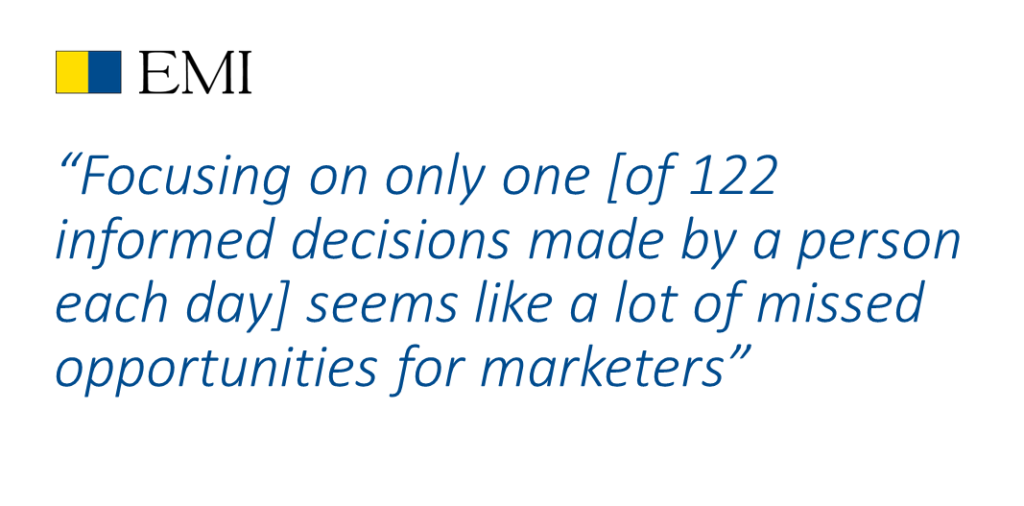 Any time marketers approach their work, then, they should be examining the situation and driving for clarity about exactly what they want the audience to do in response to the key stimulus. Is it: Read the email, click on the one CTA or multiple CTAs? Watch at least part of the video in the social feed, the whole video or click through from the social post to a website? Each of these is a slightly different action that requires different thinking from the marketer about how to compel the desired action. Without this clarity, it becomes strikingly easy to lose sight of what's most important and end up falling victim to the "can't we just add this too?" trap.
Having a microdecision mindset is not only a more effective way to produce the desired action, it's also a boon to marketers who constantly have to fight back the tide of "just add this." It becomes a powerful lens through which to evaluate tactical changes: Will the changes facilitate or undermine the ability of the audience to make the ONE decision you want them to make? For example:
If you want them to register for your webcast, don't also try to get them to click to read your article.
On the other hand, if you want them to click on something in your email vs. nothing, then go ahead and add the article link.
If you want your audience to both engage with the post and then watch a video on a social platform, don't feature a strong CTA to click on.
But if you care less about the decision to watch and engage with the video than about driving a click through to your website, make the post more of a teaser to what they get when they click to the video.
By using the microdecision mindset to focus on users and your goals, marketers can achieve greater efficiency in their marketing efforts. The framework helps to instill creative decision-making discipline and offer better results.