Most leading U.S. credit card issuers reported relatively strong y/y growth in outstandings in the first quarter of 2018.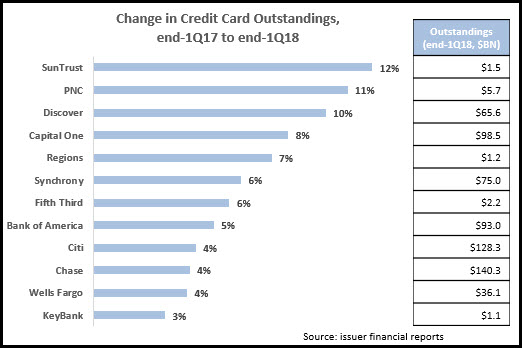 Breaking these growth rates out by FICO Score segment, we see that issuers generated growth across multiple FICO Score categories.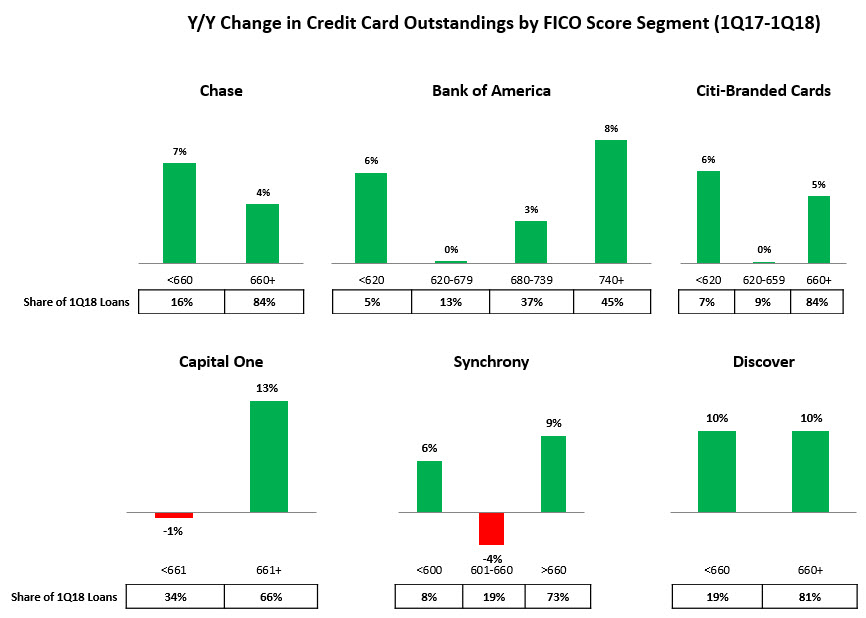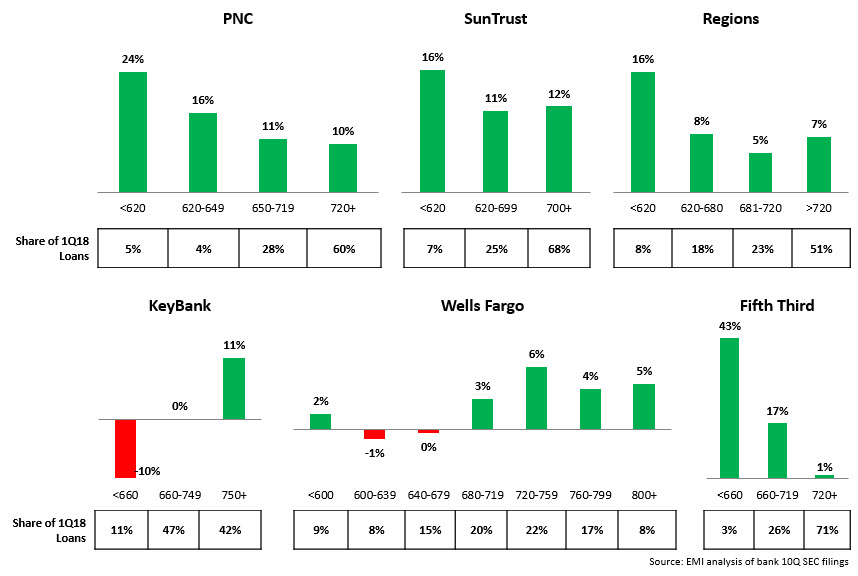 There are important differences in the FICO composition of card portfolios.  The <660 FICO Score segment accounted for 34% of Capital One's portfolio, a much higher percentage than other issuers, such as Fifth Third (3%), Chase (7%), KeyBank (11%), Citi (16%) and Discover (19%).
Among the largest issuers, one of the most notable trends was strong growth in the low-prime/sub-prime and super-prime segments, but low/no growth in their prime portfolio.  Bank of America grew its sub-prime (<620) outstandings by 6% and its super-prime (>720) increased 8%.  However, its loan portfolio held by consumers with FICO scores between 620 and 739 only increased by 2%.
As issuers enjoy strong growth in their credit card outstandings—especially for sub-prime and near-prime consumer segments—it is worth noting that charge-offs are also on the increase.  Most issuers reported double-digit y/y basis-point growth in their credit card net charge-off rates.  Four of the 12 issuers below now have charge-off rates of more than 4%, and only one (American Express) has a charge-off rate of less than 3%.
So, while issuers want to grow credit card loans across the FICO Score spectrum, they need to ensure that various functions are all calibrated to ensure that cardholder delinquencies and charge-offs remain at manageable levels.  These functions include:
Underwriting
Marketing: targeting, offer development, and messaging
Pricing: fees and APRs need to be set at levels that balance cardholder ability to pay with an appropriate margin to offset potentially higher charge offs
Customer support: onboarding, financial education, as well as early engagement in cases where cardholders experience payment challenges