EMI's annual analysis of marketing expenditure for 25 leading U.S. banks reveals that they grew marketing spending by 7% in 2019 to $15.4 billion. This rate was down from the 13% growth between 2017 and 2018.
The banks' marketing ratio (defined as advertising and marketing spend as a percentage of net revenue) has risen steadily in recent years, growing 18 basis points (bps) to 2.92% in 2018, and by an additional 21 bps to 3.13% in 2019.
The chart below summarizes marketing ratios, marketing budgets and y/y change in marketing spending for these 25 banks.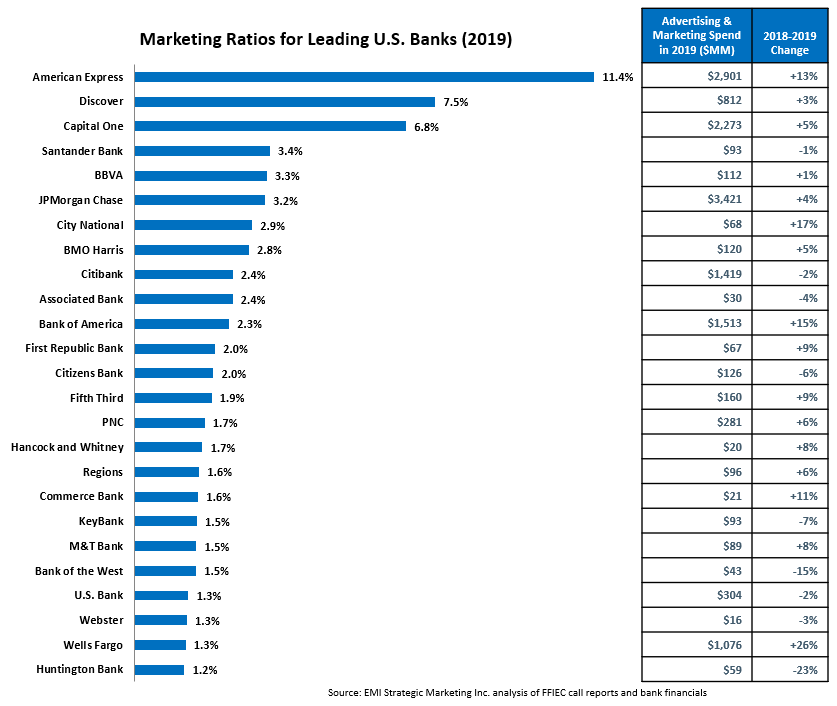 The following are some additional takeaways from our bank marketing spend analysis:
16 of the 25 banks increased their marketing spending in 2019, with 5 increasing their budgets by more than 10%.
6 banks invested more than $1 billion in advertising and marketing. Wells Fargo joined this group for the first time in 2019, with marketing spending rising by 26%, driven in large part by the launch of the 'This is Wells Fargo' integrated marketing campaign in January 2019 . It has invested strongly in advertising in recent years as it seeks to rebuild its reputation following the fallout from fake account and mortgage mishandling scandals.
11 banks increased their marketing ratios in 2019, with 6 of these growing the ratios by more than 10 basis points. The largest rise was reported by Bank of America, whose 15% increase in its marketing spend led to a 38 bps rise in its marketing ratio (to 2.3%).
Banks that do not have branch networks and have national credit card franchises (American Express and Discover) had the highest marketing ratios. Capital One's credit card bank charter – Capital One Bank (USA), National Association – had a marketing ratio of 10.3% in 2019, while its retail banking charter – Capital One, National Association – had a ratio (3.2%) more in line with peer regional banks.
It is almost impossible to project bank marketing spending for 2020, given the impact of the coronavirus pandemic on the U.S. economy in general, and the banking sector in particular. In the short term, marketing budgets will trend downwards as bank revenues are impacted by decreased economic activity. However, unlike the 2018-09 Financial Crisis, the country's fundamentals were strong heading into this disruption, which increases optimism that the economy can recover quickly once the pandemic abates. This may lead to a robust bank marketing spending in the second half of 2020. What is more clear is banks will continue to shift their marketing budgets from traditional media (e.g., TV and print) to digital and other nontraditional media.