According to the FDIC, there were just over 94,000 domestic bank branches at the end of June 2015: a net reduction of almost 1,400 branches from end-June 2014, and a decline of more than 6,000 branches since the U.S. passed the 100,000 branch threshold in mid-2009.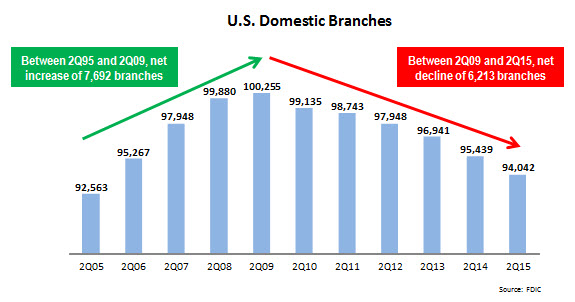 The recent decrease in the number of branches is being driven by a number of factors, including banks' focus on cutting costs in recent years.  In addition, the emergence and strong growth of online and mobile banking usage has led to consumers significantly reducing their use of branches for transaction processing.  So how are banks adapting their branch networks to this changing channel environment?  An analysis of presentations by leading U.S. banks at the recent Barclays Global Financial Services Conference identified a number of ways that banks are restructuring, repositioning, redesigning and restaffing their branches to ensure that this channel survives and thrives into the future.
While the overall number of branches is likely to continue to decline, most banks appreciate the key role that branches play in sales, service and branding, and remain committed to the channel.  However, banks will continue to adjust branch density, design, layout, staffing and integration with other channels, in order to control costs and adapt to new consumer preferences and behaviors in how they interact with their banks.