With the ending of SBA Payment Protection Program (PPP) loans, banks' small business loan portfolios declined significantly in the second half of 2021. However, in line with the economic recovery, the outlook for small businesses appears positive entering 2022 (pandemic permitting). With this in mind, we observed the following trends in small business marketing, thought leadership and product development during 4Q21 as both traditional and challenger banks jockeyed for position in the small business market.
Financial providers continued to market to small businesses in a variety of ways, such as:
Developing campaigns and messaging around small business events, such as Women's Small Business Month (in October) and Small Business Saturday (in November).
Promoting small business offers via email, on websites and in social media. KeyBank presents business offers on its website under the headings "Bank," "Borrow" and "Manage."
Publishing client success stories on websites and in social media. During the quarter, Regions highlighted a series of clients on its YouTube channel, under the heading "Good Company."
Connecting with local communities. Wells Fargo introduced "Hope, USA," an initiative to revitalize local business districts in a range of cities
Financial providers are pursuing a multi-faceted approach to small business thought leadership, including:
Coverage of a broad range of topics of interest to small business owners
Increase in content targeted at different business owner segments and industries
Multiple content formats, led by articles and blogs, but providers are also increasingly using other content types, such as newsletters, videos, infographics and podcast series. (Bank of the West launched the Means & Matters podcast focused on women business owners. Cadence Bank introduced Good Companies, its first podcast.)
Continued focus on portals to organize content. Regions extended its Next Step sub-brand with the launch of the Next Step for Business portal.
With a significant majority of small businesses embracing digital channels, banks are expanding digital functionality and using these channels for both service and sales.
Traditional banks are facing competition from a diverse array of challengers that are launching new products, aggressive pricing and a focus on the digital experience.
American Express sought to take advantage of its leadership small business payments by launching Kabbage Funding and the Amex Business Checking app.
Intuit launched the Money by QuickBooks mobile app and QuickBooks Checking.
Leading issuers launched new small business cards to capture a share of the expected strong growth in small business card spending in 2022.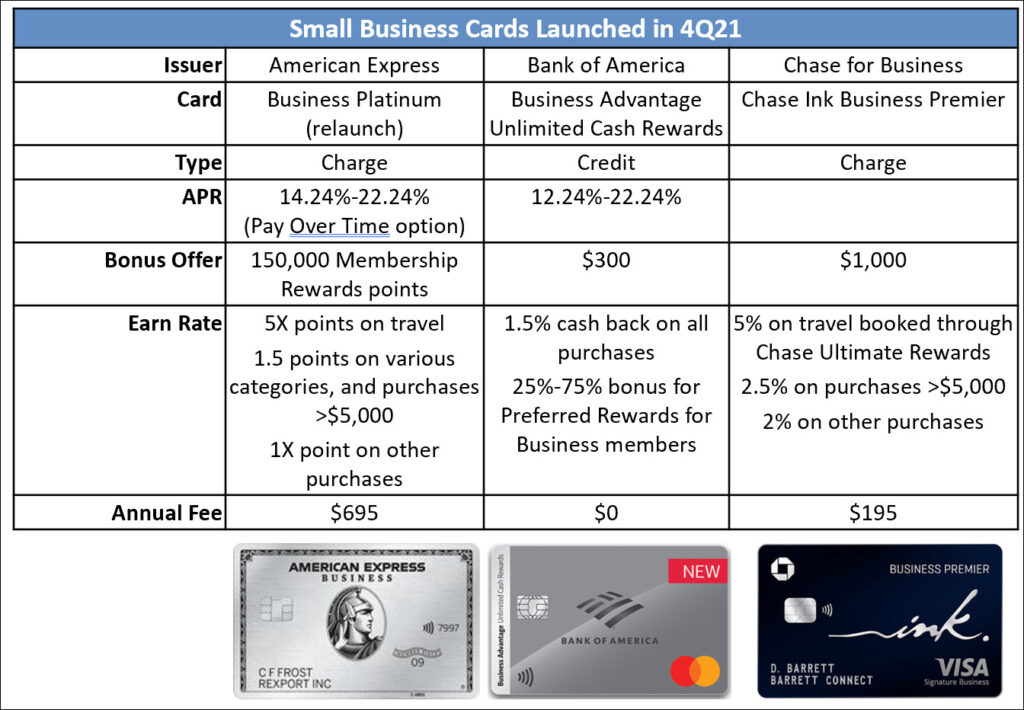 In 2022, we expect that most of these trends will continue as new entrants look to identify and exploit market gaps, and incumbents focus on protecting and growing their small business customer bases by refining their positioning, products, offers and customer experience.