The FDIC recently published detailed branch and deposit data for different geographic levels for all U.S. banks. EMI's analysis of this data revealed the following trends: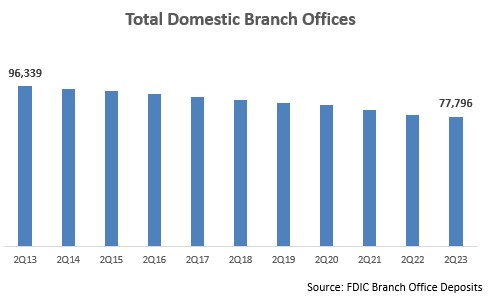 There is a continued (but slowing) decline in the number of bank branches. Over the past 10 years, the total number of domestic branches for FDIC-insured institutions declined by almost 24% to fewer than 78,000 branches. This equates to an annual average decline of 2.1%. In 2Q21 and 2Q22, the y/y rate of decline exceeded 3%, but this slowed to 1.7% y/y to the end of June 2023.
Some of the largest banks had the strongest percentage declines in branches. Our detailed analysis of 30 leading banks (see below) found a 3.1% y/y decline in branches (from 35,039 to 33,920) at the end of 2Q23. However four banks with networks of more than 2,000 branches reported declines of more than 4%: Wells Fargo (-4.4%); PNC (-6.7%); Truist (-5.4%) and U.S. Bank (-8.1%). Santander Bank reported the largest percentage decline (-8.9%).
Some banks are growing their branch networks. While the overall trend has been for banks to trim their networks, some banks are maintaining or even growing their commitment to this channel. TD Bank grew its network by 11 branches, adding branches in 8 existing markets, as well as opening its first branch in The Villages, FL. Following the collapse of its planned merger with First Horizon earlier this year, TD announced plans to open 150 U.S. branches by 2027 with a focus on Southeast markets.
Banks are maintaining their presence in the vast majority of their markets. While banks are reducing branch density in their existing markets, few are completely leaving these markets. Seven of the 30 banks exited a market over the past year, but only one left more than one market: City National Bank closed its branches in both Reno and Carson City, NV.
Branch closures were spread across many existing markets. Overall, the 30 banks closed branches in 22% of their existing markets, through several had higher percentages of existing markets impacted by closures, including Santander Bank (56%), Truist (39%) and PNC (32%).
Banks concentrated their reductions on markets with the largest branch networks. Banks reduced branch densities in many of their main markets, enabling them to cut costs while maintaining a significant presence. Although more than a third of Wells Fargo's branch reductions took place in just 8 markets, each of those markets continues to have more than 100 branches.
Some banks are opening new branches in existing markets. The 30 banks increased branch numbers in 4% of existing markets, led by TD Bank (increased branch numbers in 14% of their existing markets) and Fifth Third (13%), who are both expanding their presence in key southeastern U.S. markets. JPMorgan Chase increased branch numbers in 22 markets (10% of its existing markets), including Washington (+11 branches), Minneapolis (+9), Kansas City (+7) and St. Louis (+7).
J.P. Morgan Chase is leading the way in market expansion. Over the past year, the bank opened branches in 10 new markets, including Buffalo and Virginia Beach (4 new branches in each market). This is part of a longer-term strategy to grow its branch footprint: the bank reported at its 2023 Investor Day that its population coverage rose from c. 60% in 2017 to c. 80% in 2022, with the bank now aiming for 85% population coverage.