As the banking ecosystem moves to a digital-first profile, we have identified the following five trends that shaped digital banking during the most recent quarter. Furthermore, we expect that these trends will persist into 2022.
Not only has digital banking achieved critical mass, recent surveys have found that it has become an indispensable tool in people's lives.
Recent years have seen digital challengers engaged in a land grab in a market characterized by very strong growth and relatively low barriers to entry. Several digital banks have attained significant scale while others have established a strong presence within a specific market niche. However, we are now seeing signs of a shakeout in the digital bank sector in 4Q21 with pullbacks, market departures and consolidation.
Traditional banks are addressing the threat from digital banks by continuing to grow their digital user base, adding new digital functionality, improving the digital user experience (UX) and acquiring/partnering with fintechs.
Younger demographic segments represent the key battleground between traditional and digital banks.
While traditional banks migrate to a digital-first approach, they believe that clients will continue to value the branch channel.
Many banks are announcing branch reductions as they reduce branch density. Our analysis of FDIC SDI data on domestic U.S. branches shows that there has been a decline of almost 10,000 branches over the past five years, with some evidence in recent quarters that the rate of bank closures has accelerated (a decline of at least 1% of total branches in three of the past four quarters). However, it is important to note more than 82,000 branches remain in operation.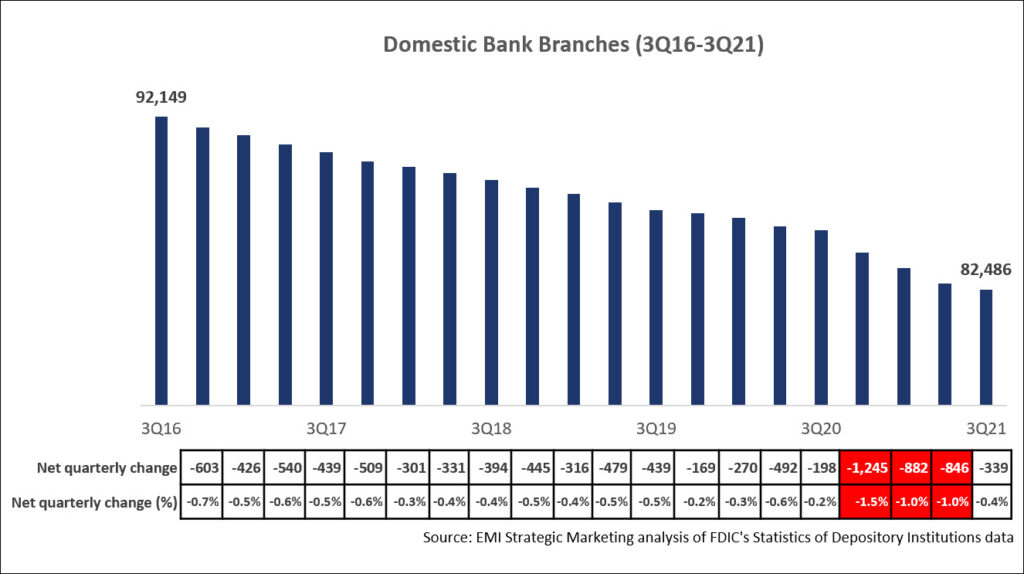 We expect that many of these trends will continue and even intensify in 2022 as both established and emerging players adapt their product offerings, channel strategies and customer experiences to changing customer behaviors and preferences as well as an increasingly dynamic competitive environment.
Subscribe