One of the themes in leading credit card issuers' 2Q14 financials was the expectation of a return to steady outstandings growth. Even those top issuers who continued to report y/y outstandings declines—such as Bank of America and Capital One—indicated that growth is on the way. In the aftermath of the financial crisis, issuers pulled back from the prime and sub-prime FICO segments and concentrated their business growth initiatives on the superprime segment. As issuers now look to generate outstandings growth, one of the strategies open to them is to target the lower FICO segments. However, EMI analysis shows that issuers continue to focus on the higher FICO categories. The chart below shows that, for most issuers, lower FICO segments' share of total consumer credit card outstandings continues to decline.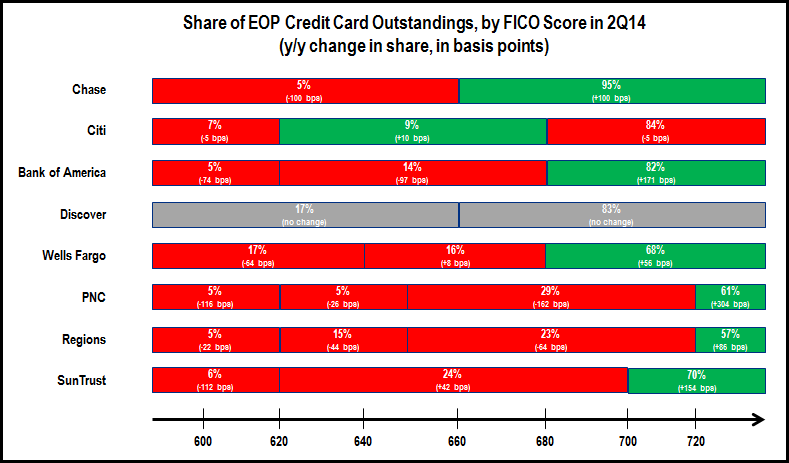 Even though issuers use different FICO categories, the chart enables us to compare the FICO composition of credit card portfolios between different issuers.
Consumers with credit scores of less than 680 accounted for 32% of Wells Fargo's outstandings at the end of 2Q14, compared to only 18% of Bank of America's outstandings. This may help explain why Wells Fargo's average credit card outstandings rose 10% y/y in 2Q14, compared to a 2% decline for Bank of America.
Similarly, 17% of Discover's outstandings are held by consumers with FICOs of <660, compared to just 5% of Chase outstandings. Discover reported 6% y/y growth in outstandings in 2Q14, compared to just 1% growth for Chase.
Looking over a longer period (2Q11-2Q14), we see a consistent pattern of the lower FICO segments losing share of consumer credit card outstandings. For Chase, consumers with FICOs of less than 660 accounted for 14% of outstandings at the end of 2Q14, compared to 20% at the end of 2Q11. However, for some issuers, the share decline in lower FICO segments has not been very dramatic.  For example, FICOs of <640 accounted for 17% of outstandings at the end of 2Q14, a share loss of just two percentage points since 2Q11.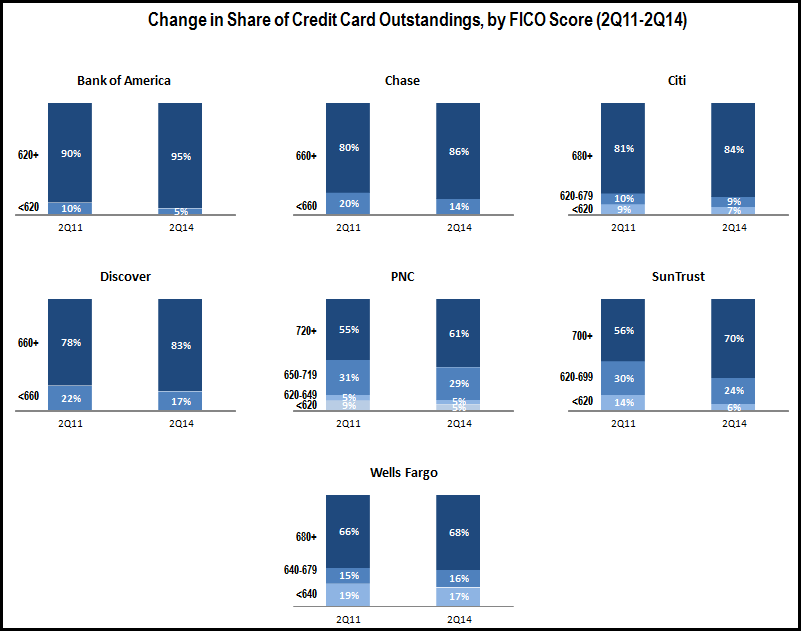 As consumer confidence returns, issuers expect to grow outstandings in the coming quarters.  However, to achieve their goals, they will need to develop strategies for a broader FICO range.  In addition to continuing to target more affluent consumers, issuers will need to develop strategies, products, pricing and messaging to reconnect with prime, lower-prime and sub-prime consumer segments.
Subscribe