Banking customers' growing preference for digital (online and mobile) channels – as well as the huge number of digital challengers looking to gain a share of the market (read our December 2020 blog on segmentation among new entrants) – has led established retail banks to ramp up their investment in digital channels.
Growing digital banking users continues to be a prerequisite in establishing strong customer engagement. The onset of the COVID-19 pandemic in early 2020 was the catalyst for many reluctant consumers to use digital (online and mobile) banking channels for the first time. Many of these have continued to use digital channels even through branch banking has returned.
The top three retail banks – Chase, Bank of America and Wells Fargo – all report steady growth in active digital users. Bank of America claimed that 70% of its Consumer Banking households now use its digital channels.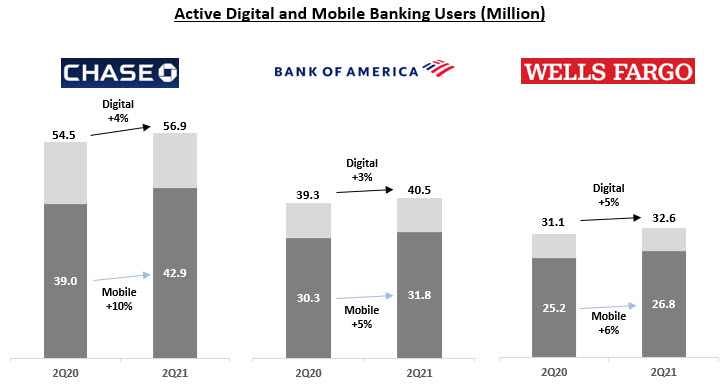 Many U.S. banks also publish metrics illustrating that customers are using digital channels to carry out an range of banking activities, such as:
Obviously, banks will want to continue to enhance their digital functionality to meet consumer needs and differentiate themselves from competitors. Here are a few tips for doing so effectively:
Identify the bank departments, product lines or customer segments where digital channels have significant scope for growth
Carry out regular assessments of customer behaviors, needs and perceptions to inform digital investments
Conduct ongoing competitive intelligence to understand what digital functionality is now common among many banks, distill best practices, and identify competitive gaps
Prepare ways to counter internal barriers (e.g., organizational inertia, legacy processes) to speedy development and rollout of new digital solutions
Ensure that new functionality enhances the customers' digital experience
Develop closer integration between digital and human service and sales channels
Develop plans to leverage marketing and customer communications channels to promote new digital functionality