In spite of the emergence of new electronic business-to-business payment forms, and the continued popularity of checks, U.S. small business owners continue to grow their small business credit card usage. According to The Nilson Report, U.S. Visa and MasterCard small business credit card volume rose 15% in 2017 to $223 billion. And American Express also reported that its Global Small Business Services loans rose 13% to $12.3 billion in 2018.
In order to capture their share of small business card spend, leading U.S. banks have launched a range of new small business credit cards over the past year. These credit card launches are summarized in the table at the end of this blog. The following are the key trends and features that stand out for these new cards:
Pricing:
There is a mix of 0% purchase-only and purchase-and-balance-transfer introductory offers, with durations of 9 or 12 months.
Most cards have an APR range. The only exception is U.S. Bank's Business Leverage Visa Signature Card, which features a non-tiered go-to APR of 18.74%.
As demonstrated by both M&T Bank and BB&T, there tends to be a 200 basis-point gap between rewards and non-rewards business card versions.
Business credit card APRs tend to be lower than their consumer card counterparts. BB&T launched Spectrum Cash Rewards (consumer) and Spectrum Cash Rewards for Business at the same time: the business card's lower tier was priced 300 bps less than the consumer card (and the business card's upper tier is 100 bps less than the consumer card).
Rewards:
New business cards offer either a 1.5% earn rate for all purchases with no limits or a tiered earn rate.
For tiered programs, the business cards either offer higher earnings on specified spending categories (such as at restaurants and gas stations) or on the top spending categories during the month (U.S. Bank Business Leverage Visa Signature).
Bonus Offers:
Issuers are now deploying different approaches to incentivize business card usage.

We continue to see acquisition-and-activation offers for reaching a spending threshold within the critical 90-day initial period. However, new American Express Amazon Business Card cardholders receive a $100 Amazon gift card on approval.
To promote relationships, some business cards now offer bonus earnings on cumulative spending over the first year. Recent examples include Discover it Business Card and U.S. Bank Business Leverage Visa Signature. Furthermore, the new U.S. Bank card also enables cardholders to earn rewards for accepting credit card payments.
Fees:
Most business cards launched over the past year have no annual fee, the exceptions were BB&T's Spectrum Travel Rewards for Business and U.S. Bank's Business Leverage Visa Signature.
New business credit cards show significant variation in the percentage (3-5%) and minimum fees ($5-$15) for both cash advance and balance transfer fees. However, some new cards deviated from the standard approach:
The Discover it Business Card carries a 5% balance transfer fee with no minimum.
The U.S. Bank Business Leverage Visa Signature Card has a different fee for balances transferred with the card application vs. the ongoing BT fee.
Mirroring consumer cards, many new business cards now come with no foreign transaction fee. This include non-travel cards, such as the American Express Amazon Business Card and the two new M&T business credit cards.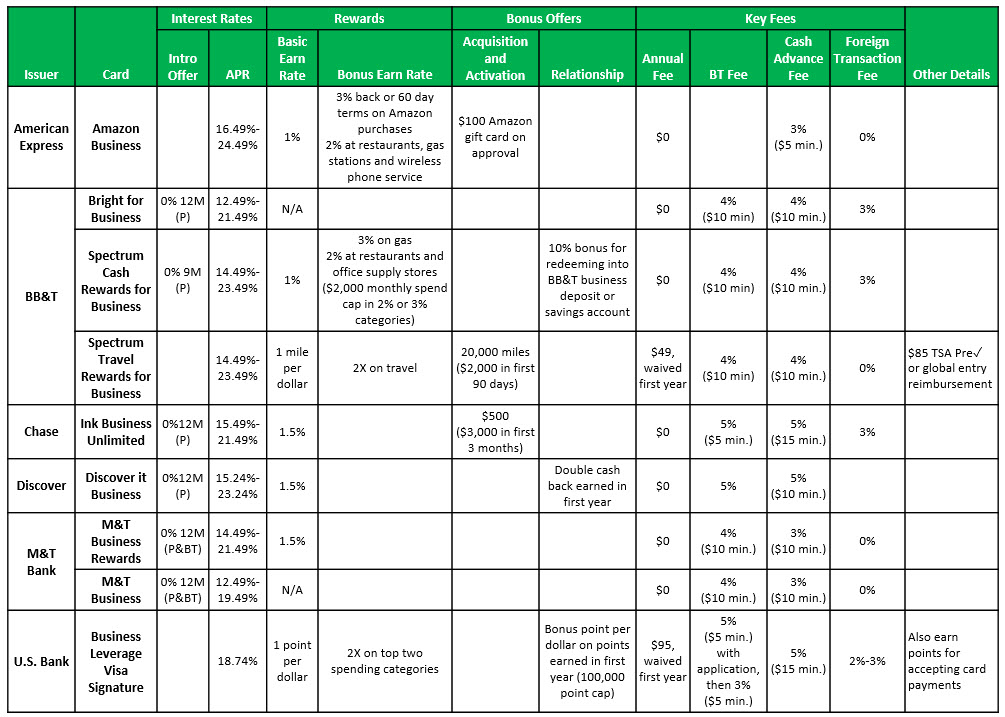 Subscribe