Numerous surveys continue to highlight financial literacy gaps among U.S. adults and children, illustrating the ongoing need for financial education programs (according to a Step survey, 97% of teens believe that financial literacy is important). Many financial firms and their partners have been at the forefront in developing and distributing innovative financial education programs. The following are noteworthy financial education trends in the 3rd quarter of 2021.
Build engagement with younger segments through financial education programs and content. Firms are looking at a wide range of channels to reach younger demographics:

HSBC created a new world in Minecraft – Fintropolis – designed to improve financial literacy.
Bank of America launched a 7-part series on YouTube that aims to share financial know-how with both parents and students.

Develop financial education partnerships with associations and advocacy groups.

OneMain Financial partnered with EverFi to launch the Money LaunchPad financial literacy program for students in grades 9 to 12.
BancorpSouth committed $1.5 million to Operation HOPE for financial literacy programs and announced six additional HOPE Inside locations.

Target specific consumer segments with financial education programs and thought leadership tailored to their unique needs, including:

LGBTQ: Capital One published an article, "The Debt Free Guys: Financial Obstacles Facing LGBTQ+ People", and Ally published an article on "Financial Considerations for LGBTQ+ Couples."
Couples: Ally Bank launched a marketing campaign targeting couples' fears over the "Money Talk", and Morgan Stanley listed "6 Money Questions to Ask Your Partner Before You Commit."
Widows and Widowers: MassMutual published "A financial checklist for widows and widowers."

Brand financial education programs to bring together various financial education initiatives as well as raise consumer awareness and engagement. Recent examples:

Charles Schwab launched MoneyWise America™ program for teens.
Regions introduced the Next Step podcast, the latest resources from the bank's Next Step financial education program.
Capital One launched the Money & Life program, which builds on its former Money Coaching program.

Position financial education as part of broader ESG and CSR initiatives. Financial education efforts are now more prominently featured in financial firms' annual ESG and corporate social responsibility (CSR) reports.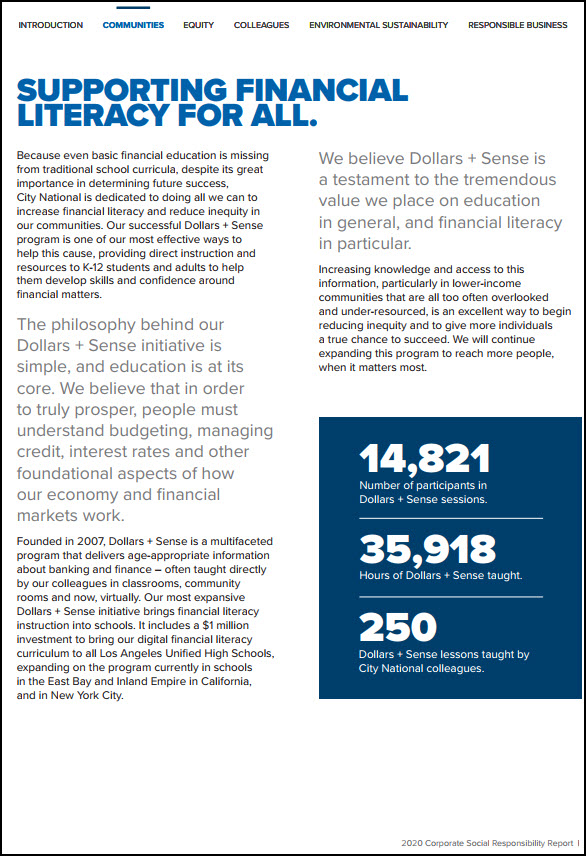 Subscribe